We made it.
Finally, after months, we found a date to make some photographs. We, that's me and Wolfgang Böhmer. I know Wolfgang and his family for years and I was very excited to make this post. to me it seems they are always on the road, all of them. but he said: "no, not me" and went off to Erfurt the same afternoon.
The flat is amazing. the heart of this flat is the big living room / kitchen. all rooms seem to lead back to that room, which is big enough to give four people enough space to breathe and create. four people that are Wolfgang, his wife Adriana Altaras, and their sons Aaron and Lenny. both sons worked already as actors, Lenny also plays the viola and the trumpet, he is the charmer of the family, just always smiling. Adriana is a multi-talent anyways … so these people need some space to follow their creativity and live together. this flat is not for showing off, it is for a living, and most surprisingly for such an inspirational place I have not seen one single interior mag! not one! the first flat for ages i visited and no interior mag. I didn't have a look under the bed!
Wolfgang is a composer who works quite a lot for theater, film etc. and does arrangements for opera and many more things, as for example the neuköllner oper. on his web page you can check out some examples of his compositions. Wolfgang is a very open minded person, so no small talk but a bit of the hard stuff. straight to having an honest talk.
click on the picture or this link to see these pictures on Flickr.
it was almost relaxing to make pictures from Wolfgang, he didn't pose when the DSLR clicked he just left me to do my work.
and find more pictures of the flat here.
the heart of the flat is the big living room with it's open kitchen
wherever you go you find books and musical instruments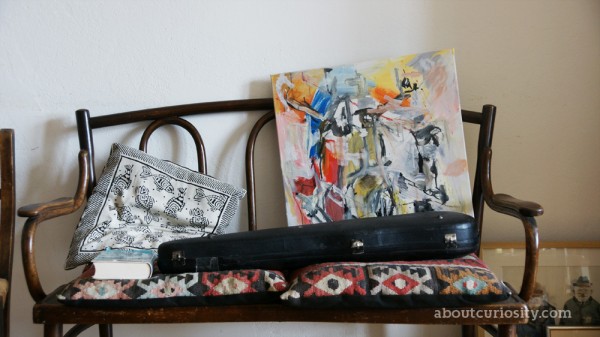 the flat smells nicely of fresh fruits, soap and wax.
just saying. -no pressure on you guys! but i love getting served a good coffee, doing inside posts, i think even the camera gets milder.
ok, it seems they like coffee.
ah very good, cappuccino. and finally one without a flower, Christmas tree, heart etc.  in the foam
books! everywhere!
looks like the scene of an film, but is one of the sleeping rooms
one of the two balconies, great view over berlin schöneberg
hehe, i brought some work … someone wasn't prepared for that.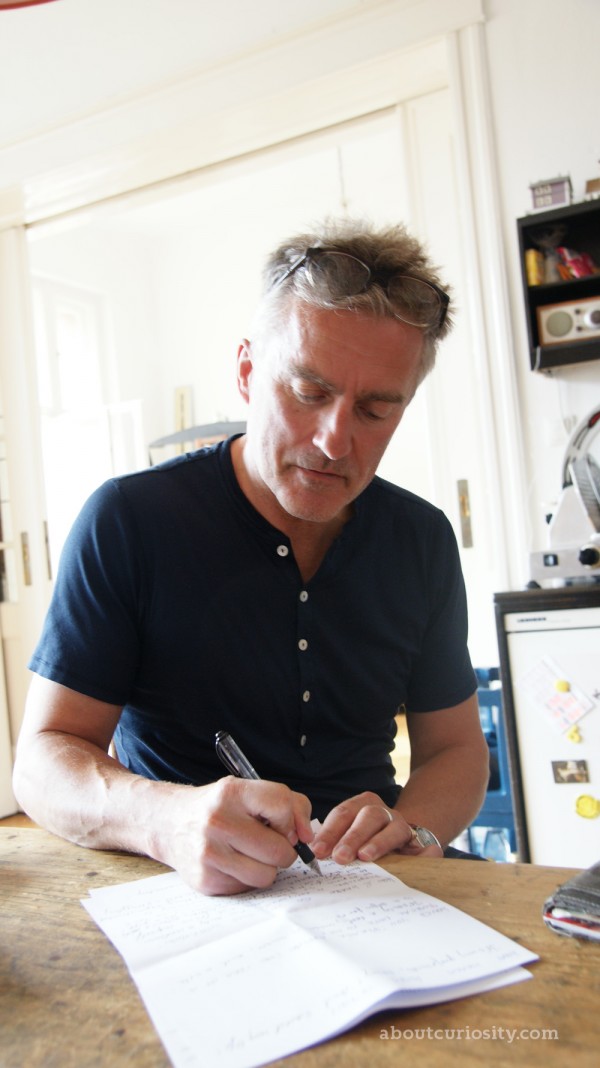 i think i am having that hitchcock neurosis, somehow i have to put myself in the posts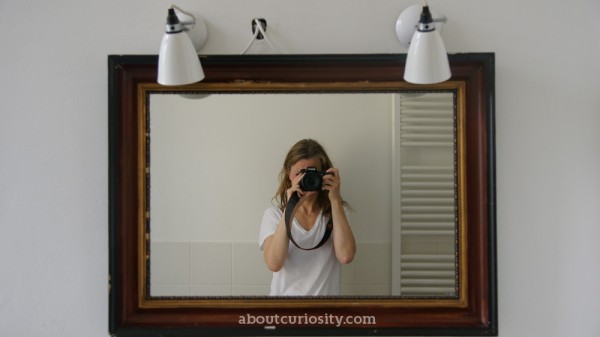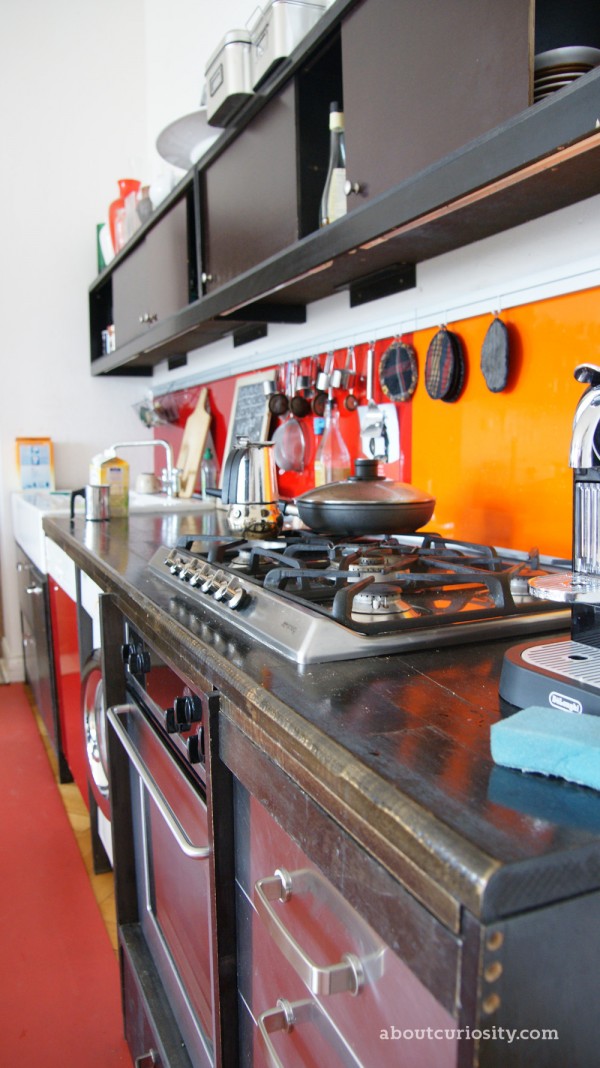 what to write, what to write!
the holy room! the working space from wolfgang, here he creates his compositions and plays with friends music
wolfgang built all the shelfs in this room on his own, so they would fit his needs better
family
relax! all done!
Wolfgang Böhmer
Q: what means music to you?
A: It's my profession, sorry! and saved my life!
Q: Would you please explain the idea of a musical note to me:
A: It is only a tool. music is music. and a note is a sign to write music down.
Q: How and where do you find inspiration?
A: Inspiration is everywhere. I am only a medium to express. So i can work and focus on myself to be open for inspiration: concentration, silence, etc.but that is all. I can not force it. it is a gift! the contrary of inspiration is angst!
Q: What means harmony in music to you?
A: Music is harmony and flow. disharmony is harmony as well, makes everything sophisticated and hot.It's the same in love: struggle makes the realtionship spicy … only bad music hasn't any harmony!
Q: Do you think it was a good idea to become a composer nowadays
A: Yes! if you have the passion and – of course- the ability, the knowledge, etc. – you can manage all the difficulties that come along with that profession. you never become a rich man – that you must know!
Q: What else would you like to do?
A: travel. write a novel or short stories – next life!
Q: If you would live somewhere else, where would that be?
A: On one side a view to the baltic sea on the other side, the alps.
Q: How do you find the time to do your work, it seems to me you are always on the road?
A: Difficult – I need a silent place for work and a daily routine. Family absorbes me often …
Q: What is your favorite insrument?
A: String quartet
Thank you, Wolfgang for the lovely afternoon!